Medical Education in the US
Updated: Feb 4
The latest question I received was about what a second year medical student would know if they happened upon an accident victim, which brings up the question of the medical education process in the US. Quick overview: 4 years of college, 4 years of medical school, 3-9 years of residency (the first year of which is called internship), +/- 1-3 years of fellowship.
Pre-Med
Except for a few specialized programs, medical school requires an undergraduate degree in anything really. The Medical College Admission Test (MCAT) is quite rigorous (understatement) and covers biology, chemistry, organic chemistry, biochemistry, physics, statistics, and so on, so a major that requires those courses makes some sense. But we look for students with a wide range of backgrounds, and most important, at least at UF, is evidence of "other-centeredness."
Many students now take a gap year. Graduate, then spend a year doing something before matriculating to medical school. For some it's financial, for others it's a break, but for many it's to enhance their application and odds of getting in. Regardless, the age at matriculation then is at least 22-24.
Medical School
Usually begins in July/August. The first two years are generally still in the classroom, though they'll have some patient contact while shadowing other physicians. At the end of the second year, students must pass Step 1 of the US Medical Licensing Exam (USMLE). It largely covers the basic sciences they learned the previous two years.
Third year consists of 4-8 week rotations in various fields:
Internal Medicine (adults, outpatient clinics and inpatient wards; often includes some time on sub-specialties – e.g., cardiology, pulmonology, gastroenterology)

Pediatrics (kids, but same as above, including time in the newborn nursery)

Family Medicine (outpatient clinics, might include children)

Surgery (mostly inpatient, seeing patients before and after surgery, and observing during operations, rarely suturing the wound at the end of an operation); often involves some sub-specialty experience

Obstetrics & Gynecology (inpatient and outpatient clinics, deliver a few babies, otherwise similar to surgery, except with MUCH nicer docs)

Psychiatry (inpatient and outpatient)

Neurology (inpatient and outpatient)
By the end of third year or early fourth year, students should know what field of medicine they wish to pursue. Note that emergency medicine, anesthesiology, radiology, dermatology and many others are not required in the curriculum. Interested students must choose an elective to pursue these.
Fourth year is mostly elective. Students spend more time in fields they think they might wish to pursue, and do "audition rotations" at institutions where they might wish to complete their residency. Rotations are four-weeks long, usually with a few required courses: Emergency Medicine, Anesthesiology, Critical Care Medicine (Intensive care unit). During fourth year students must pass USMLE Step 2, both a written and a practical exam. The scores on this exam weigh heavily on residency applications because it is the only available national comparator.
From October to February of fourth year, students interview for residency positions.


The Match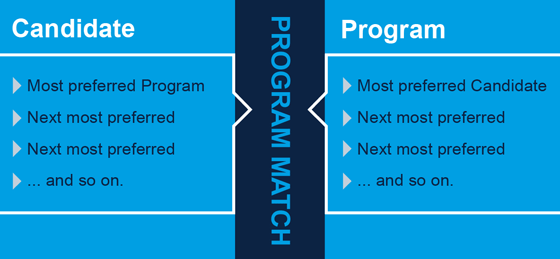 Despite legal challenges, the match process remains. Using ERAS (Electronic Residency Application Service), senior medical students are "matched" with residency programs. Students fill out an application, then direct it to the programs in which they are interested (all general surgical residencies in the southeast US, for example). Students are advised to apply to 20 programs or more, depending on their class standing/USMLE scores and the competitiveness of their chosen specialty (dermatology vs family medicine).
Admission committees at residency programs review the applications and invite for an interview those they consider competitive. After, the students rank the programs in order of their preference, programs do the same for the applicants, and a computer matches them up. The process is binding on both sides.
Should a student fail to match, there is a secondary match afterward to find them a spot somewhere, perhaps in a different field, or just a one-year internship somewhere, with a plan to reapply the following year. Meanwhile the programs that didn't "fill" are scrambling to find unmatched graduates to fill their openings. Though it's becoming much less true, the cogs of an academic medical center still run to great extent on the work of residents, and a hole in a residency class means more work for everyone.


Graduation
Students graduate with an MD in May/June of their senior year, but cannot obtain a medical license to practice until they complete an internship (one year of training) and pass Step 3 of the USMLE.
Matriculation to residency is July 1.
In the next blog, I'll cover residency.